Here is a list of RUBRICS that will be adapted/modifed each year to meet the needs of the students in a developmentally appropriate in each grade level.

Body Awareness
arms/ legs/ head/ elbows/ knees /trunk
angular /curved/ twisted/ narrow /wide/ symmetrical /asymmetrical
swing/ sway/ twist /turn /stretch/ bend/ curl /shake/
rise /sink/ push/ pull
Space AWARENESS
personal space /general space /create space to open area /keep body between ball and defender/ deny space between goaland players/cover an area/move forward,backward,sideward,up and down/move in round and curved path/zig zag path/straight path/
EFFORT
fast movements/slow movements/accelerate and decelerate/free flowing movements/bound,flow ,stop quickly
RELATIONSHIPS
inside/outside/between/front/behind/over and under/on and off/
across/above/below/leading/following
matching/mirroring/parting/meeting
LOCOMOTOR

Skills
Walk
Run
Jump
Hop
Gallop
Slide
Skip
Leap
Chase/flee
Dodge
Fake
Jumping and landing (height/ distance/to catch / on and off equipment/body control)
Long and short rope jumping

NON-LOCOMOTOR
swaying
swinging
twisting
turning
moving isolated partsof the body
hand/foot gestures
Rolling/sideways/forward/backward/equipment
Rocking with chin to chest
Head to knees
Curved body shape

Sideways
Stiff as apencil
Tight muscles
Begin turn for abdominals

Forward
Curved body shape
Chin to chest
Push with hands
Frog jump beginning
Stay tight in tuck

Backward
Curved shape
Head to knees Push up
Stay tight in tuck

Balancing
Base of support
Two ,three.four bases of support
weight transfer(rolling/feet to hands,spring takeoffs)
OBJECTIVES/MASTERY
Balancing
Stationery balances
ON equipment
On different body parts
In different body shapes
Inverted balances
Transfers weight to and from body parts
Combines skills on mats
Rolls in different directions
Body shapes in air
Body to express effort
Design shape sequences
Move to avoid others
Focus movement on speed
Use force speed with object
Move with a partner
Mirror a partner
Jump for distance
Jump for height
Jump a self turned rope
Jump/3 jump rope tricks
Jump in and out of long rope
Chase/flee/dodge/roll
Balance and weight transfer
Move from balances
Balance on moving equipment
Transfer weight on equipment
Kicking and Dribbling
Toward a target
Toward a traveling partner
Traveling and kicking for a goal
Change speed and direction
Avoid opponents in a game situation
Dribbling(hands)
Dribble with one hand / switch hands
Changing direction and speed
Avoid opponents in a game situation
Throwing and Catching
Many different objects
To a partner
At different levels
For distance and accuracy
To a moving target
While traveling
Volleying
Bumping and setting with a partner
Serving over the net
Use bump,serve,set in a gane situation
Striking with Rackets and Paddles
Striking upward continuously
Striking downward continuously
Striking a ball rebounding from a wall
With apartner
In a game situation
Striking with long handled implements
Striking to a target
For distance and accuracy
Toward a traveling partner
Traveling and striking for a goal
Striking and dodging in a game situation
Striking off abatting tee
Correct strike techniques in a game situation
Rhythms
Moving to music in a variety of ways
Peform specific rhymthmical patterns to music
Combines rhythmical patterns to perform a dance
Long rope jumping
Double Dutch
Rhythm gymnastics( ribbon, ball, hoop)
Tinikling
Lummi sticks
SPECIFIC LEAD UP SKILLS/RUBRIC
MIMETICS( primary grades / intermediate)
frog, log , dog, cat
snake , crab, bear
kangaroo, crane, rowboat
upswing( swing from knees to feet), egg, seal , mule kick
slide/chasse, skip, leap, jump, hop, gallop
BODY POSITIONS
Straight
Arch
Pike
Straddle
Squat or tuck
Lunge
BALANCES
One body part
two
three
four
"v" sit , straddle sit , arabesque , "y" scale
FORWARD ROLL PROGRESSION
log roll
shoulder roll
frog jump and push
incline roll( board and mat)45 degrees forward roll
Forward roll in straddle, pike , squat and no hands*
BACKWARD ROLL PROGRESSION
Crab
egg roll
back shoulder roll
candle( leg up straight like a candle, hands under hips) roll back half way to hands touch/ return and repeat
Incline roll
Back roll in squat , straddle, pike*
Back roll to handstand( extention)*
STATIC SUPPORT PROGRESSION
frog stand / tripod
frog hand balance
half headstand
forearm stand
mule kick
Short kick handstand( 45 degrees)
handstand against wall / spotter h
andstand with spotter*
backbend / spotting* w
alkovers / spotting*
AERIAL PROGRESSION
Hurdle approach , correct steps cartwheel in low plane on line( ___________)foot , hand, hand , foot
hurdle / cartwheel
roundoff
handsprings/ spotting*
VAUTING PROGRESSION
Run /hurdle /approach hit board land in crash mat
Landings :
Straight body jump/ land
Straddle
Pike
Turns Twists
Run/approach jump on and off short horse turns, jumps, twists , rotations in plane
Sideleg vault( straight leg to side)
Squat
Straddle
Any turns , rotations
LOW BALANCE BEAM PROGRESSION
Walk forward , backward , sideward
Turns , 180 , 360
Sliding
Leaping
galloping
Balances
cat walk
slow run Dismount = round off and or turns and jumps off*
LEAD UP ACTIVITIES
Volleyball
Throw ball over the net
Catch a ball-set over the net
Underhand serve
Overhand serve
Setting to self
Setting off a wall
Setting to a partner
Self set-hit over the net
Self set.-hit to an open space
Forearm bump
Dig
Set -hit to a partner
Return the ball over the net
Blocking
Correct technique in game situation
Small sided games
LEAD UP ACTIVITIES
Flag football
Stance
Centering/receiving
Hand off and pitch out
Passing
Pass patterns
Catching
Punting
Place kicking
Defense-ripping off flags(mirroring)
Small sided games
LEAD UP ACTIVITIES
Wiffleball
Throw and catch
Catch off a wall
Catch with a partner
Throw and catch while moving
Catch a rolling ball,one bounce,no bounce
Distance and accuracy
Hitting off a tee
Self toss =hit
Strike a one bounced ball
Strike a pitched ball
Base running
LEAD UP ACTIVITIES
Soccer
Toe taps -agility exercise
Inside foot pass
Outside foot pass
Inside foot trap
Outside foot trap
Dribbling
Around a partner
Between an obstacle
For speed and moving in all directions
Volley kick
Instep kick
Kick for distance
Kick for accuracy
Thigh trap
Stomach trap
Juggling
Stationery heading
Tackling
Goalie play
Small sided games
LEAD UP ACTIVITIES
Basketball
Dribbling with one hand/switch hands/crossover
Dribble around a partner
Dribble between obstacles
Dribble for speed and change directions
Dribble at different levels
Passing
Bounce pass
Chest pass
Baseball pass/overhead pass
Shooting
Lay up
Short shot
Foul shot
Jump shot
Small sided games
LEAD UP ACTIVITIES
Floor Hockey
The grip and stance
Stick handling/dribbling
Controlling the stick
Passing/to a moving partner
Receiving the pass/while moving
Shooting/striking/to a partner or target
Flick shot
Slap shot
Backhand shot
Goalie play
Small sided games
LEAD UP ACTIVITIES
ULTIMATE
Catching and receiving
Backhand and cross body backhand
The Grip
The Throw
The footwork
Forehand(grip ,throw and footwork)
One hand catch
Pancake catch
Throw for accuracy
Throw for distance
Throw and catch while moving
Throw to a target
Small sided games
HERE IS A TUMBLING/GYMNASTIC RUBRIC EXAMPLE
MIMETICS( primary grades / intermediate)
frog, log , dog, cat
snake , crab, bear
kangaroo, crane, rowboat
upswing( swing from knees to feet), egg, seal , mule kick
slide/chasse, skip, leap, jump, hop, gallop
BODY POSITIONS
Straight
Arch
Pike
Straddle
Squat or tuck
Lunge
BALANCES
One body part
two
three
four
"v" sit , straddle sit , arabesque , "y" scale
FORWARD ROLL PROGRESSION
log roll
shoulder roll
frog jump and push
incline roll( board and mat)45 degrees
forward roll
Forward roll in straddle, pike , squat and no hands*
BACKWARD ROLL PROGRESSION
Crab
egg roll
back shoulder roll
candle( leg up straight like a candle, hands under hips)
roll back half way to hands touch/ return and repeat
Incline roll
Back roll in squat , straddle, pike*
Back roll to handstand( extention)*
STATIC SUPPORT PROGRESSION
frog stand / tripod
frog hand balance
half headstand
forearm stand
mule kick
Short kick handstand( 45 degrees)
handstand against wall / spotter
handstand with spotter*
backbend / spotting*
walkovers / spotting*
AERIAL PROGRESSION
Hurdle approach , correct steps
cartwheel in low plane on line( ___________)foot , hand, hand , foot
hurdle / cartwheel
roundoff
handsprings/ spotting*
VAUTING PROGRESSION
Run /hurdle /approach hit board land in crash mat
Landings :
Straight body jump/ land
Straddle
Pike
Turns
Twists
Run/approach jump on and off short horse
turns, jumps, twists , rotations in plane
Sideleg vault( straight leg to side)
Squat
Straddle
Any turns , rotations
LOW BALANCE BEAM PROGRESSION
Walk forward , backward , sideward
Turns , 180 , 360
Sliding
Leaping
galloping
Balances
cat walk
slow run
Dismount = round off and or turns and jumps off*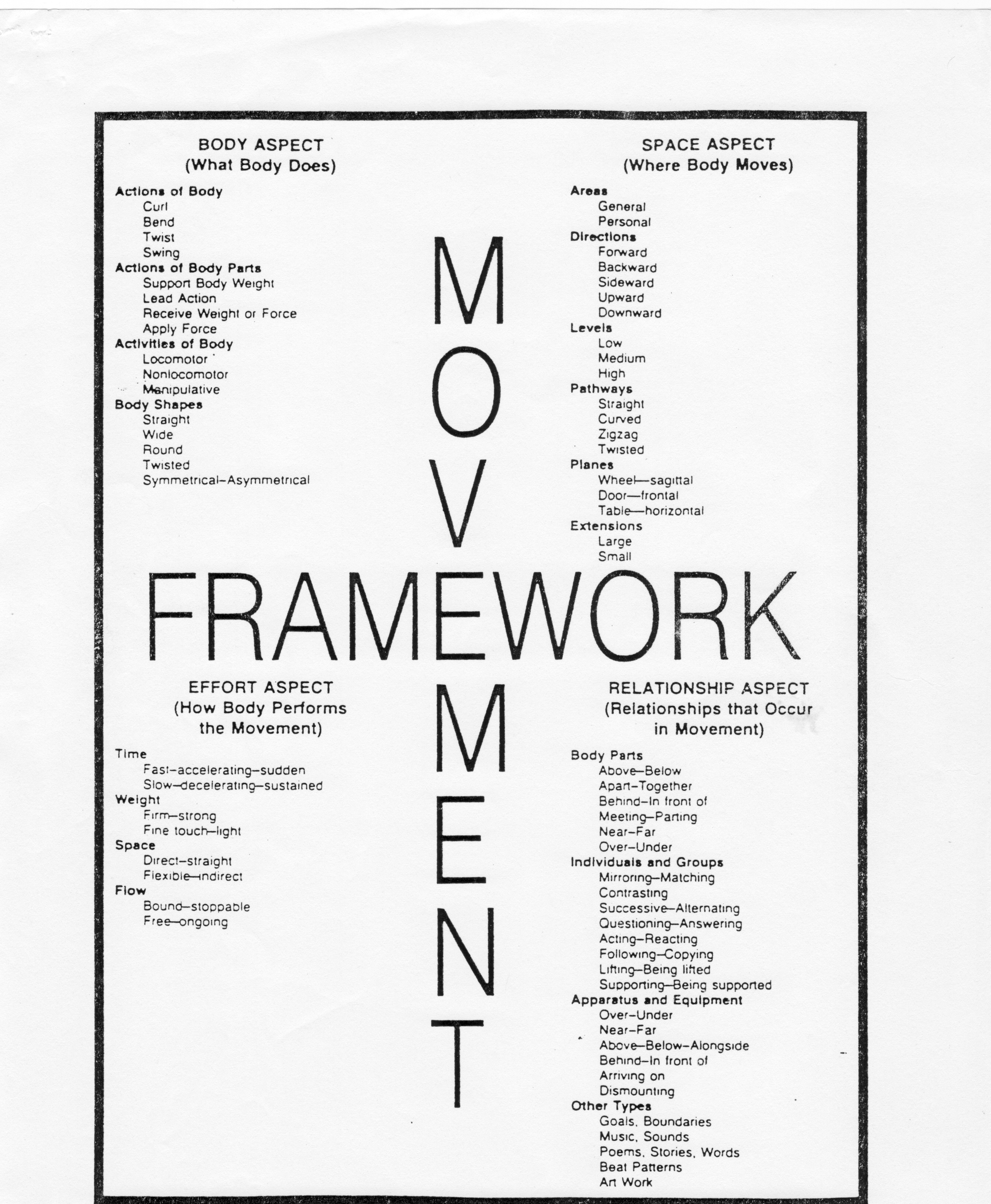 REPORT CARD
ADAPTED EACH YEAR
TEN COMMANDMENTS OF P.E.
Maximize Motivation
Focus on teaching and practicing skills(equipment,facilities,make it FUN)
Modify skills and activities(sequential progressions,space,equipment,rules,match activity to child)
Realistic expectations for each child(individual learning rates and goals)
Become an excellent demonstrator(show and tell, repeated demonstrations, mutliple angles)
Catch students doing things correctly(compliment,instruct,encourage,optimal challenge)
Reduce fears if trying skills(encouraging atmosphere,ensure safety,show empathy)
KISS(keep instructions simple,maximize touch time)
BE ehthusiastic(its contagious,smile,interact,listen)
Build character(be a role model,take advantage of teachable moments)
Students make some choices(involve in decision making:ask questions)
TEACHING STYLES
1.Style A Command - teacher makes all decisions
2.Style B Practice - Students carry out teacher-prescribed tasks
3.Style C Reciprocal - Students work in pairs: one performs, the other provides feedback
4.Style D Self-check - Students assess their own performance against criteria
5.Style E Inclusion - Teacher planned. Student monitors own work.
6.Style F Guided Discovery - Students solve teacher set movement problems with assistance
7.Style G Divergent - Students solve problems without assistance from the teacher
8.Style H Individual - Teacher determines content. Student plans the programme.
9.Style I Learner Initiated - Student plans own programme. Teacher is advisor.
10.Style J Self Teaching - Student takes full responsibility for the learning process.